"My dad thought I should throw a match through the window, to be honest," said Dr. Rachel MK Headley.
Headley, a scientist, author, speaker, and project leadership specialist had her (experienced) hands full. The entrepreneur, who owns Cobblestone Science, The Rose Group, Project Leadership Secrets, and more, had purchased a 1989 farmhouse in Spearfish that no one wanted to touch.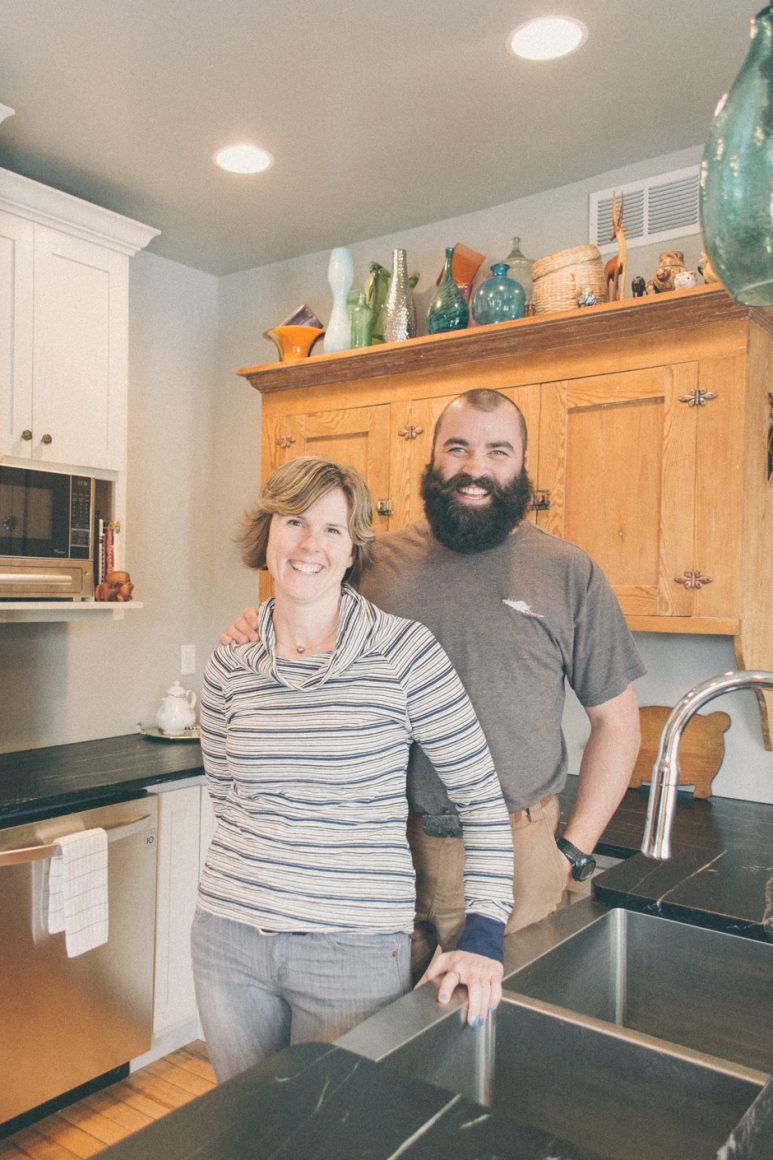 "I've talked to a million people that have said, 'I would have loved to have done that, I just didn't know where to start,'" she said with a smile.
And try they did. Headley said there had been four previous attempts by owners who started to remodel, and soon sold it.
"They just got in over their heads," said Headley's partner, Jared Capp.
Capp, who goes by "Cappie," owns Pangea Design Group. When Headley purchased the house, she had only known Cappie from a few run-ins at concerts and around town. After "normal builders" would hardly speak to her after hearing of the house, she cold called him.
"I knew he built straw bale houses, so I knew he had done crazy [explicit] like that," she laughed.
There was almost a mile of original trim they had to strip, clean, professionally dip, and reapply.
After coming within $10,000 of each other on how much they thought it would take to bring the house back to life, it was a deal. Especially after it was deemed structurally sound.
Once they started demolition, crazy things started to happen.
"Through the tearing process, random humans would show up," recalled Cappie. "One guy showed up with a giant envelope of original photographs and construction documents of the house – it was really neat."
He continued, "[Another time] we were sheetrocking, and this guy – a cowboy in his 50s – pulls up in a truck with Wyoming plates and came in and told us this was his grandfather's house."
It was Edwin "Shock" Hall, the original owner of the home. Headley, who is fascinated by the home's history, showed us envelopes full of photos, articles, and even the deed – which was signed by Hall's wife, Ida.
"That never happened. Even in the 1950s you didn't find women signing for property, and it was really unusual," said Headley. "So we don't know what that was about."
What they have heard are stories alleging that Hall was a trail boss down in New Castle, Wyo., and that he purchased the house because he was tired of traveling back and forth from there to a ranch in Spearfish, where he also worked.
"I made [the pig cutting board] for my grandfather when I was in sixth grade in woodshop. My grandpa used it for years, and when he died in '95, I got it back."
It was alleged as well that he had an affair with a teacher, whom Headley and Cappie think he ended up marrying after he and Ida divorced.
No wonder after all of the historical speculating that the pair was curious when the grandson walked up to them that afternoon. Cappie said, "I asked him about Ida, and he said, 'Yeah, we know of her, but Grandma never talked about her.'"
Gossip aside, there were even more mysteries about the house, which is technically an American Foursquare. These post-Victorian homes were built with four rooms on each floor.
"It's pretty early in American Foursquare, so you can still see a little Victorian in the fancy porch," said Headley, who rebuilt the porch like new from a photograph. "I chose a 1930s-era porch, because it suits my personality better. But it had an original two-story porch on it."
The stair banister is the only oak in the house.
The more the nine-month remodel continued, the more they noticed strangely lavish details.
"The doorknobs, the face plates … all are filigree red brass (or rose brass). They're expensive. They're expensive now, I can't imagine then," said Cappie. "And Rachel went through all of them and disassembled all of the locksets, cleaned them, oiled them, and took Brasso with a Q-tip and a rag, and shined all of the brass back up to new."
Headley says the house was built for servants, which is rare for the area. There was a servants' quarters found in the backyard, which now only serves as Headley's office.
Among other "fancy" details are double chimneys and double front doors. Headley did get rid of one of the front doors, which is one of the only original things she changed. Why two front doors?
"There are a lot of theories on that, but the most commonsensical one is that one was for company, and that parlor was the more formal room," she said.
Other important changes included adding two new walls to create bathrooms. "They had no indoor plumbing," said Headley.
"Women have lived here for most of the history of the house, whether alone or with another person, and it was special that my daughter and I bought it."
After being unable to shut the pocket doors, they realized floor had been added on top of the original wooden layer. "That's why there are a bunch of holes on the floor," explained Headley.
One of Cappie's favorite highlights of the home is in the corner of the dining room, where a circular stain sits. The sheriff had informed them that it had once been the location of someone's spittoon.
"He [said] he missed 90 percent of the time," laughed Cappie. "That's my favorite spot in the house, because it's real."
There are views of Lookout Mountain from the upstairs balcony.
More and more stories were discovered during the build inside and outside of the house. Cappie built a shelf that holds items found behind the wainscoting, in the basement, and all over the yard. Items include Valentines from the 1960s, an old Spearfish dairy bottle, mica that came from the original windows, recipes, and the 1898 newspaper article that solidified it as one of the first homes of the area.
A touching item was a rocking chair that someone brought over that had been original to the house.
"Someone bought it at an auction, and found out Cappie was working on [the house]," said Headley.
"It was wrecked, so I refinished it," he said. "That's bison hide that a local guy put on. That was [Rachel's] housewarming gift."
As you can tell from the opening, the two fell in love. It wasn't until the house was completed, when Headley asked Cappie if he wanted to go to Belize to celebrate.
After they returned to their finished project as a couple, the people continued to show up.
"I wanted a really modern house, but wanted to respect the history, so you'll find a lot of modern mixed with old stuff."
Cappie recalled, "We were sitting on the porch in the summertime, and this woman pulls in the driveway – adorable, mid to late 80s. She walks up and introduces herself, and said she had spent her wedding night in this house."
The pair let her take a walk around the house, and Headley says the memories flooded back with each step. As she lingered in the kitchen, she told them a story of burning her first meal there.
"You could see her almost transform into this 20-year-old, young woman," said Headley.
Now settled in with her daughter, Alex, 8, Headley admits this isn't their "forever home." But that's never what it was intended to be.
"This house was really a project house," she explained.
There are talks to build a straw bale house together on Cappie's three acres, but not just yet. For now Headley is enjoying the fruits of their labor.
"It's so awesome to see how connected the community is to this house," said Headley. "Every time I drive in, it makes me smile, because I knew what it used to be."